Four Star Movies, located in the back of Bizarro World, is Davis' only full service movie rental store with over 10,000 dvds and blu-rays of every style:
You can search our inventory by title at the following link: Search Videos
See New Releases and recent additions at this link New Videos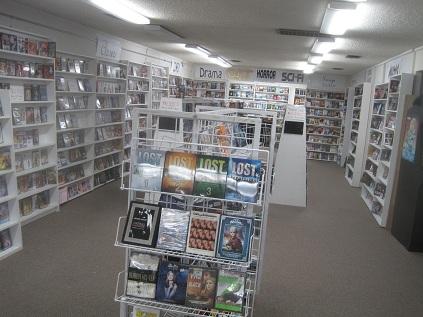 New Releases
Classic
Drama
Comedy
Romance
Action
Adventure
Martial Arts
Television
BBC
Family

Cartoon
Anime
Science Fiction
Fantasy
Monster
Horror
Thriller
Cult
International
Independent


We always get new releases on the first day of release (Tuesdays for most films), often weeks before other rental outlets.
We have 24 hour returns. Our staff is knowledgeable about film and helpful. There is no setup fee to start a rental account with us. You don't have to choose from a meager handful of second rate scratchy dvds proffered by a vending machine or wait for discs in the mail from a massive media conglomerate to watch a movie tonight! We have what you want to watch—check out our entire catalogue here online. Search virtually, rent locally.
Regular movies cost $2.50 to rent for 3 days. You get an additional day for each movie beyond the first (2 movies, 4 days, 3 movies 5 days) with a maximum rental period of 7 days. TV series rent by the disc like movies or you can rent the entire season for an often discounted price and keep it for a week. New Releases cost $3.50 and are always 1 day rentals. All items are due back by 8PM. We have a 24 hour return slot. DVD and Blu-ray rent for the same price. We do not put rental items on hold, all are first come, first rent, but we keep multiple copies of the popular titles on hand.